The campsite in the Drôme offers about sixty private rental pitches in an exceptional environment of 14 hectares at the best price.
Very large and well shaded, they can accommodate any type of installation: tent, caravan, motor home or van.
Find the pleasures of an authentic and natural camping, mixed with a simple and family environment:
67 Campsites
5 Sanitary blocks
Large area up to 400 sqm
The configuration of the land and the arrangement of the hedges offer a campsite without vis-à-vis to each family. Moreover, the campsite itself is very shaded and integrated into the landscape of the Drôme hills.
Immersed in the middle of nature, you can enjoy a private and intimate place to set up your tent or camper. One of the assets of our pitches? The peace and quiet of the place, without hesitation!
So, would you like to discover your future vacation destination in the Drôme?
Book from now on your camping site and benefit from all our good plans !
Pitches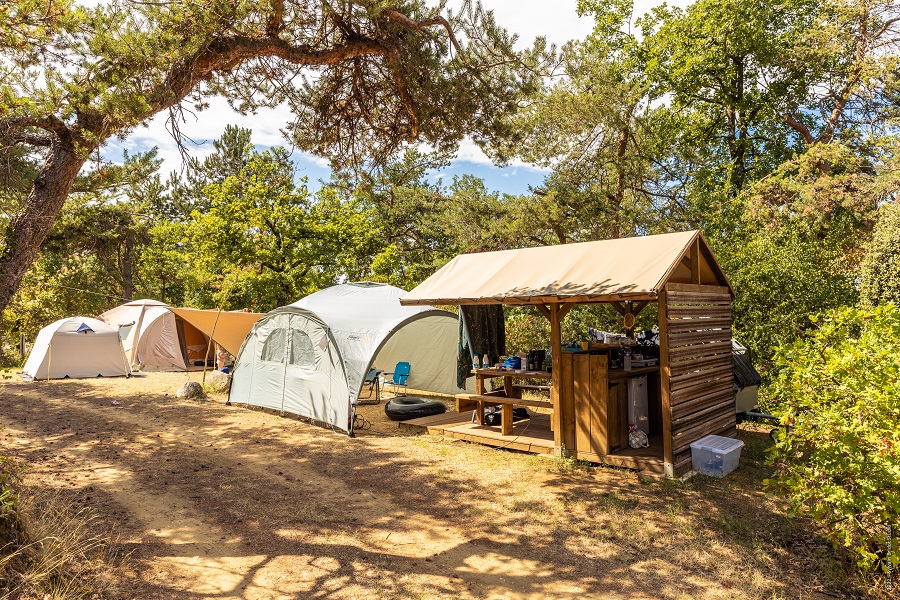 PREMIUM Pitch – Electricity + dining area
Discover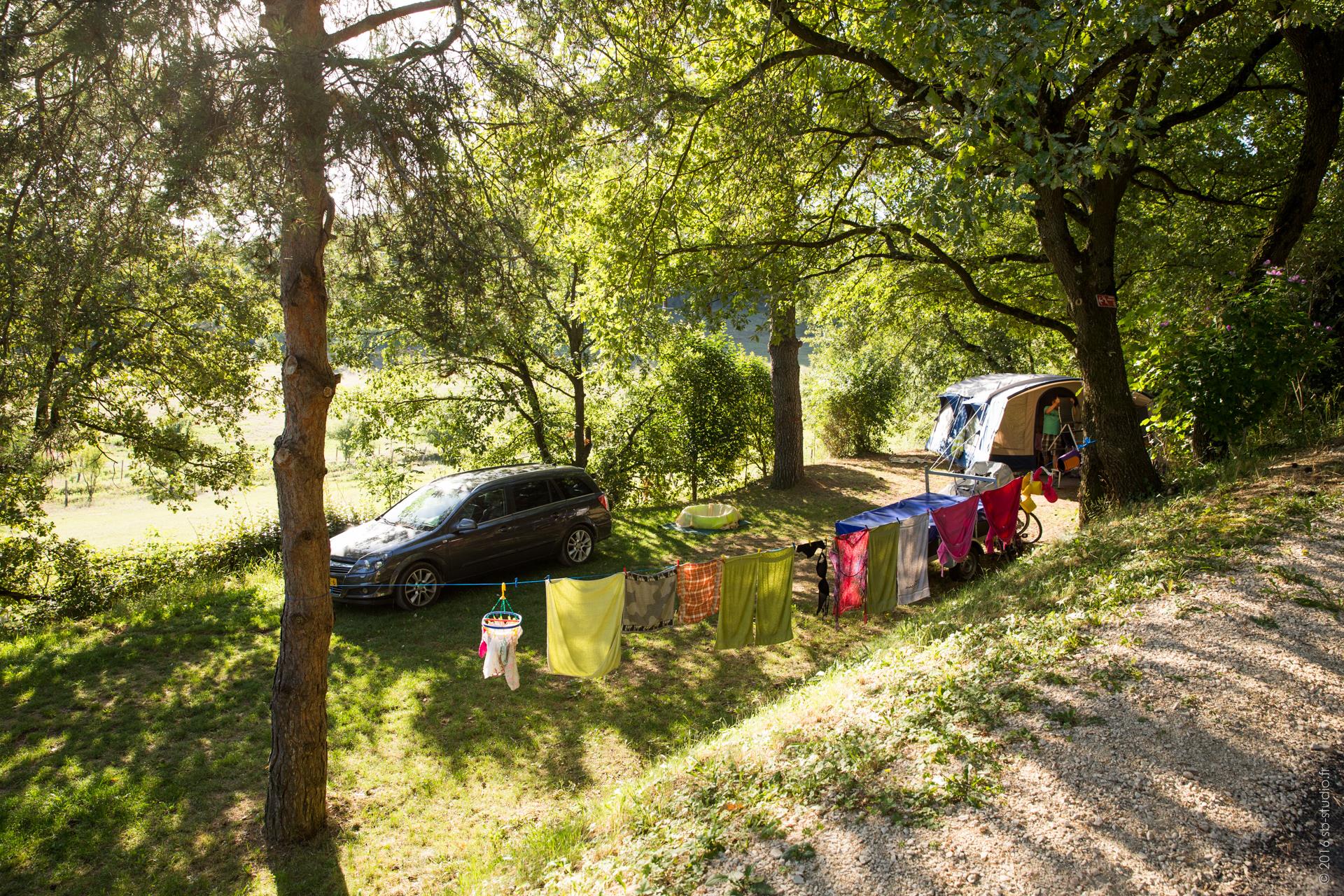 Pitches NATURE XXL – Over 250 sqm (with electricity)
Discover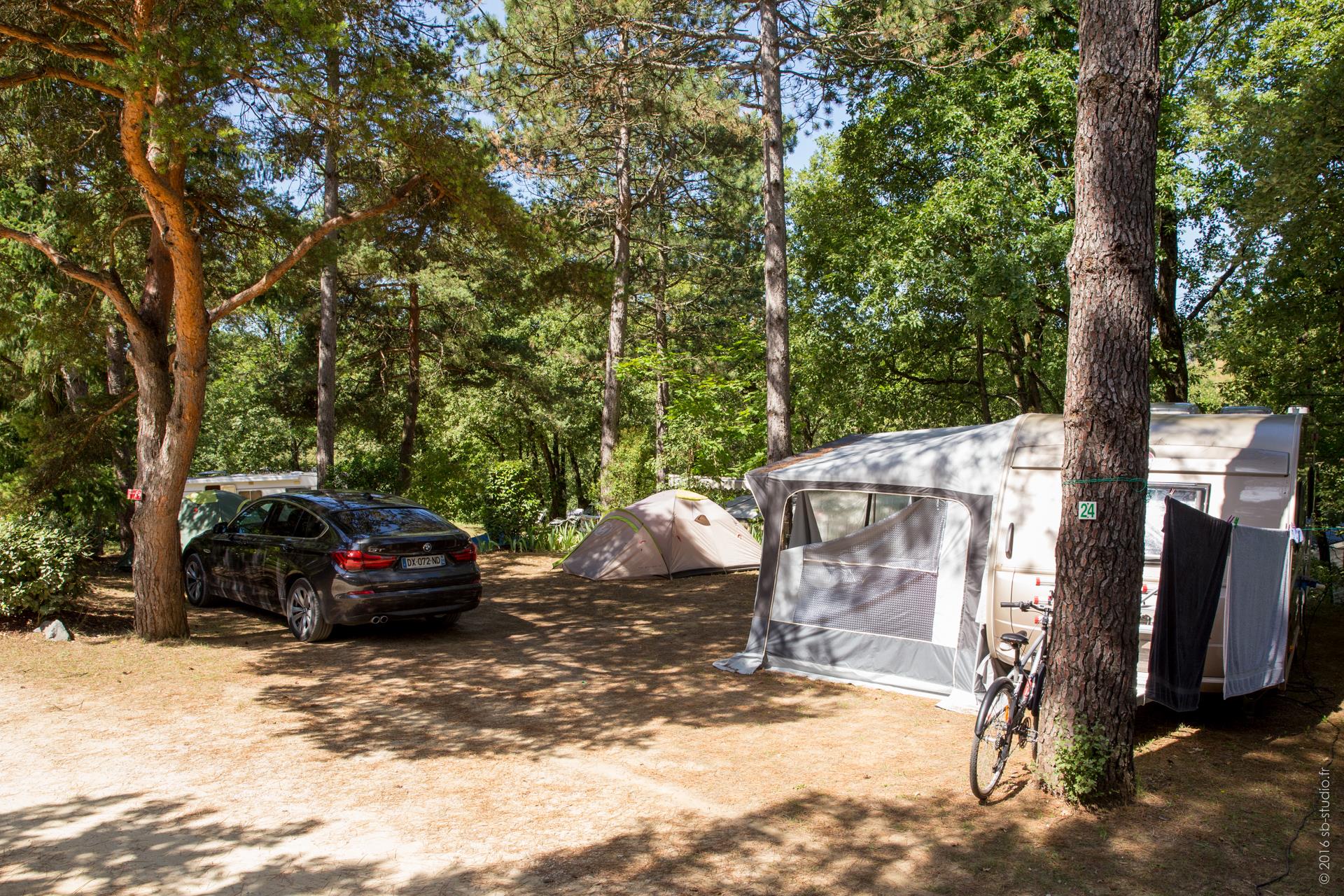 Pitches NATURE XL – Over 200 sqm (with electricity)
Discover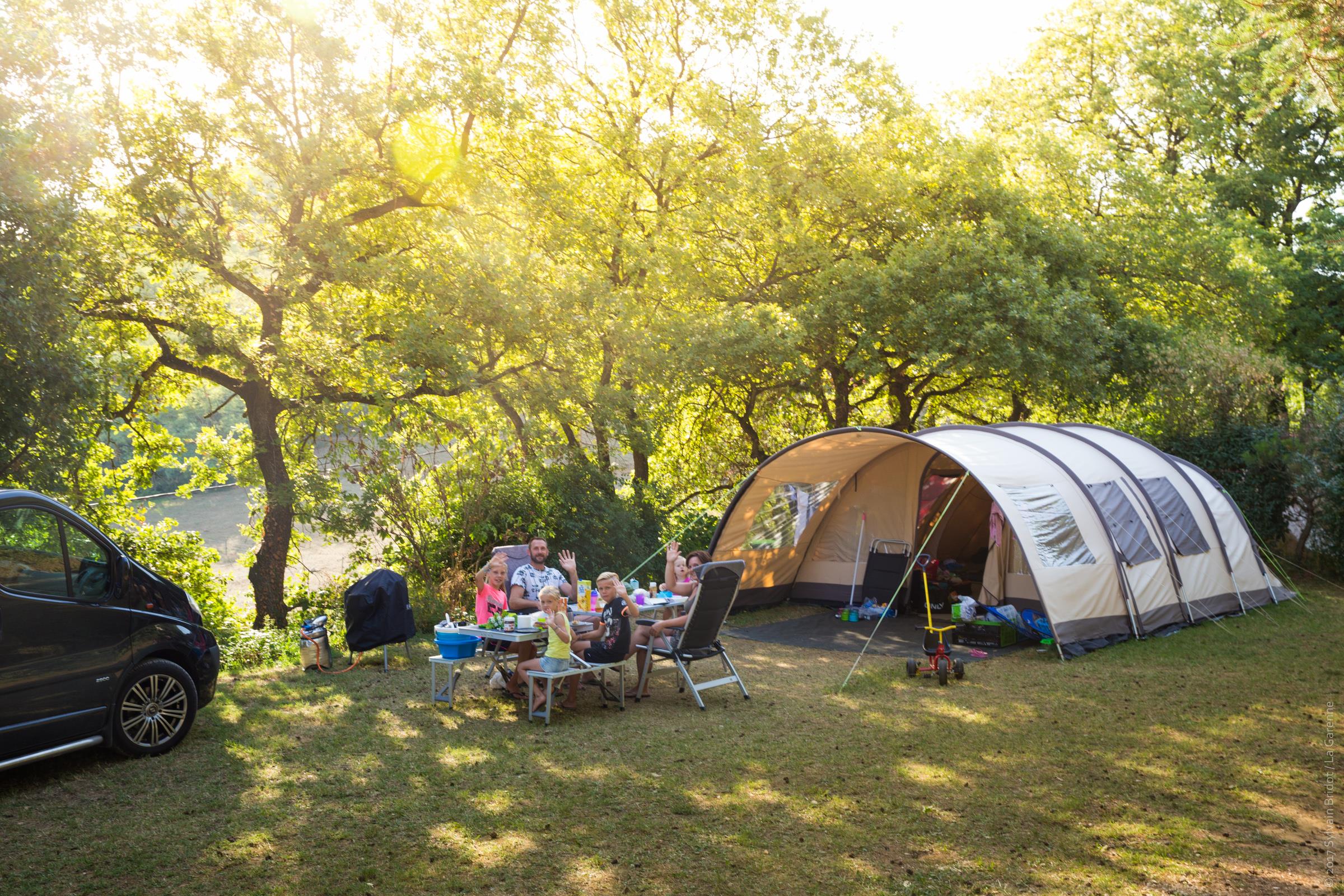 Pitche NATURE – Over 150 sqm (with electricity)
Discover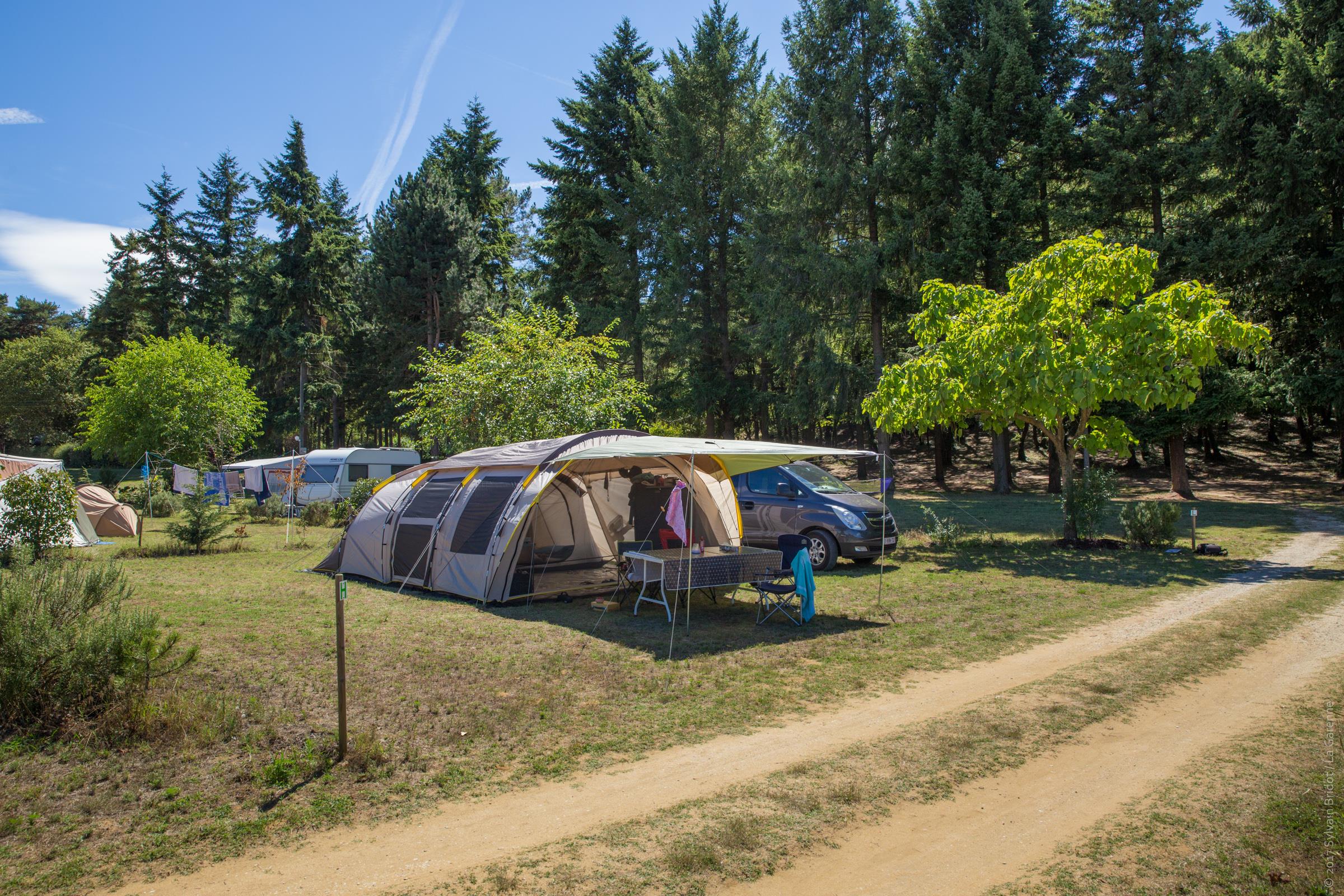 Pitches standard – Over 100 sqm
Discover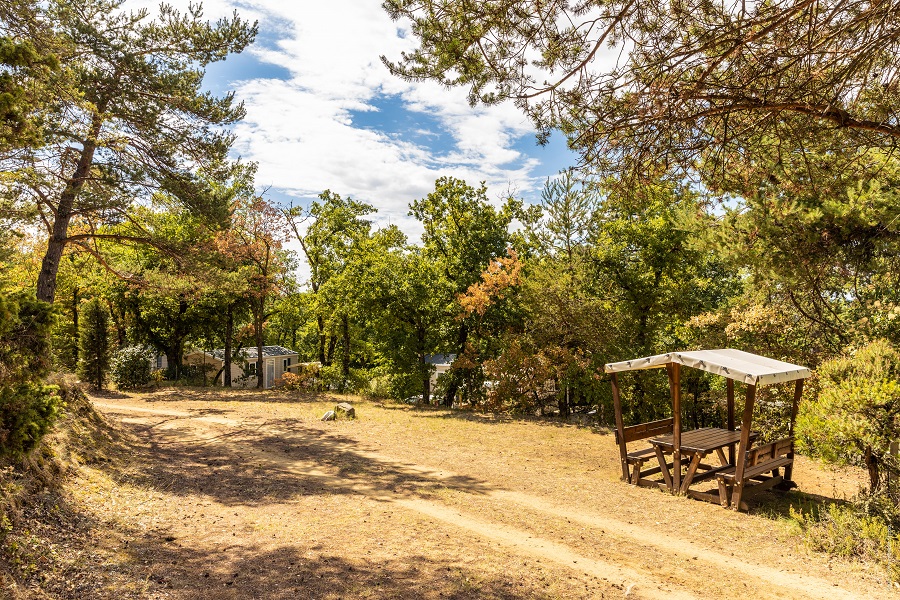 Pitch with table (and electricitry)
Discover
New in 2022: a premium pitch equipped for tent, caravan or motor home
No need to overload the car, this year you will leave light!
We are delighted to present the new 2022: a site equipped with a complete dining area.
You will find a covered and lit table, as well as a kitchenette with cooking plates (gas provided), a small refrigerator and plenty of storage space. This site is equipped to accommodate campers in tents, as well as holidaymakers in caravans or motor homes. Well located within the campsite, you will enjoy a quiet, sunny pitch near the sanitary facilities for a comfortable vacation.
The large pitches for rent: an XXL place in the middle of nature
Rent a Nature XXL pitch in the Drôme
The Nature XXL pitches are the largest in the campsite. Their surface area varies between 250 and 400 m²! The pitches are bordered by lush vegetation, and the large trees allow you to enjoy a maximum of shade.
Intimate, these private campsites for rent are spread out over the entire domain, so don't hesitate to choose yours by consulting the campsite map !
Nature XL Pitch
The large Nature XL pitches at the campsite offer enough space for the whole family. Take advantage of a space between 200 and 250 m² to rest in a hammock while letting the children play in complete safety.
Whether you are in a tent, a van or a caravan, we will advise you in order to choose the best Nature XL pitch, adapted to your needs.
Nature campsite : a quiet space for your vacations
Nature Pitch to rent in the Drôme
You are spoilt for choice among the Nature pitches. There is something for everyone: shady, sunny, quiet, close to the common areas, at the top of the campsite… The natural pitches of the campsite measure more than 150 m². Don't hesitate to ask us for advice to find the best place because we know all the specificities of the pitches.
Standard site rental near Romans-sur-Isère
The standard pitches of the campsite are mostly located on the plain, towards the common areas. The package does not include electricity, which allows for a very low cost stay: from 15€/night for 2 people in low season. However, each rental site has the possibility of connecting to electricity for an additional fee. For a one-night stopover or a longer stay, take advantage of a sunny and friendly place, with a minimum surface of 100m².
Equipment for large campsites
Drinking water point
On some pitches, you will find a water point. It is important to know that at the campsite, water is healthy, fresh and drinkable everywhere (in the rentals, in the sanitary blocks and via these private water points). So you can drink it without moderation!
Electrical connection
All camping pitches are equipped with electricity. This service is included in the basic rate, except for the category "standard pitch" (extra charge possible). The electrical power available to campers is 6 amps. Think of bringing a large extension cord (more than 30 meters). Indeed, the large spaces make that the electric boxes can be rather far from your tent or your fitted out van.
The Team's advice: We have made available to campers a freezer to refrigerate the ice blocks. This freezer is freely accessible, so remember to write your name on your ice block before putting it in. Please note that foodstuffs are not allowed in this freezer.
Our services for campsites
The options offered to enhance your stay
We offer various options for your stay in a camper, tent or caravan. You can rent a refrigerator that we will place on your campsite upon your arrival. Think of providing a system to shelter it to avoid any malfunction.
Pets are welcome for an additional fee. We also offer adapters for sale to connect your motorhome to electricity. Please note that most of the electrical outlets in the campground are French.
Modern common sanitary facilities
Within the Domaine la Garenne, there are 5 sanitary blocks, spread all over the campsite. Each of them is cleaned twice a day, in the early morning and in the late afternoon. We make it a point of honor to offer clean and well-maintained facilities. This is an essential criterion because hygiene is of prime importance in a campsite. The sanitary blocks are equipped differently depending on their position in the campsite to meet the needs of families. Thus, you can find baby areas with changing table and bathtub, children's areas, and even a child-parent cabin. Opposite the swimming pool, you will also find a cabin adapted for people with reduced mobility.
Sanitary facilities for people with reduced mobility
Campsite Domaine La Garenne is equipped with a sanitary for persons with a physical disability.
This sanitary block is situated in the sanitary building next to the swimming pool and is accessible by car, thanks to the designated parking space next to it. This cabine is equipped with a lavatory, sink, mirror and an adjusted shower. This restroom PMR is open 24h/24.
The other rentals and services of our campsite in the Drôme